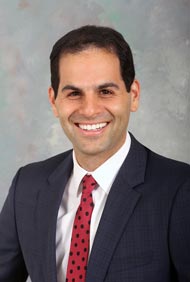 Dr. Amichai Schwarcz is thrilled to be joining the Great Lakes team. Born and raised in Metro Detroit, Dr. Schwarcz attended the University of Michigan Dearborn for his undergraduate education. He spent one year living in South Florida, while earning his Master's Degree in Biomedical Science at Barry University.
He then returned to Detroit and attended the University of Detroit Mercy, School of Dentistry, graduating in 2018. While just entering the dental profession from a career standpoint, he is no stranger to the profession. His dental family includes his father, wife, and an uncle in the profession.
Dr. Schwarcz met his wife Rebecca in a preparation class for the Dental admissions test in Staten Island, New York. They were married before starting dental school, and enjoyed experiencing the journey through dental school together. In 2017, they welcomed a son Dylan to their young family.
In his free time, Dr. Schwarcz enjoys skiing, travel, photography, and spending time with his family. He also loves getting to know his patients, and making them feel at ease while providing quality care.